​
Wilt Chamberlain's championship jersey is being offered with a collection of items depicting it including magazines, newspapers, photographs, and trading cards
Championship Style
A championship-clinching jersey worn by All-Star Wilt Chamberlain as captain of the Los Angeles Lakers in the 1972 NBA finals is bounding onto the online auction block later this summer at Sotheby's, where it is expected to fetch US$4 million. That would mark a record for the legend's memorabilia.
The storied piece of sports memorabilia came to the auction house through an unidentified collector who purchased it in a private transaction.
The jersey last appeared in a public auction in May 2006, a sale unconnected to the upcoming Sotheby's offering. It sold for less than US$20,000 by Heritage Auctions, according to Brahm Wachter, Sotheby's head of streetwear and modern collectibles.
At that point the yellow jersey with the number 13 had not been definitively "photo-matched and attributed to the 1972 NBA finals" versus the New York Knicks, Wachter says.
"The significance of this piece is not just monumental in Wilt's career," he adds. "It marks a pinnacle for him, and it is really monumental as an iconic sports artifact in terms of L.A.'s history and culture."
The NBA finals Game 5 uniform worn on May 7, 1972, capped historic high points. Chamberlain was named MVP, while the Lakers closed out a record-setting season.
The jersey, which is being offered with a collection of items depicting it including magazines, newspapers, photographs, and trading cards, will be on view in public exhibitions in Los Angeles and New York before and during the sale. The auction will be held from Aug. 28 to Sept. 27.
Chamberlain died in 1999 at age 63.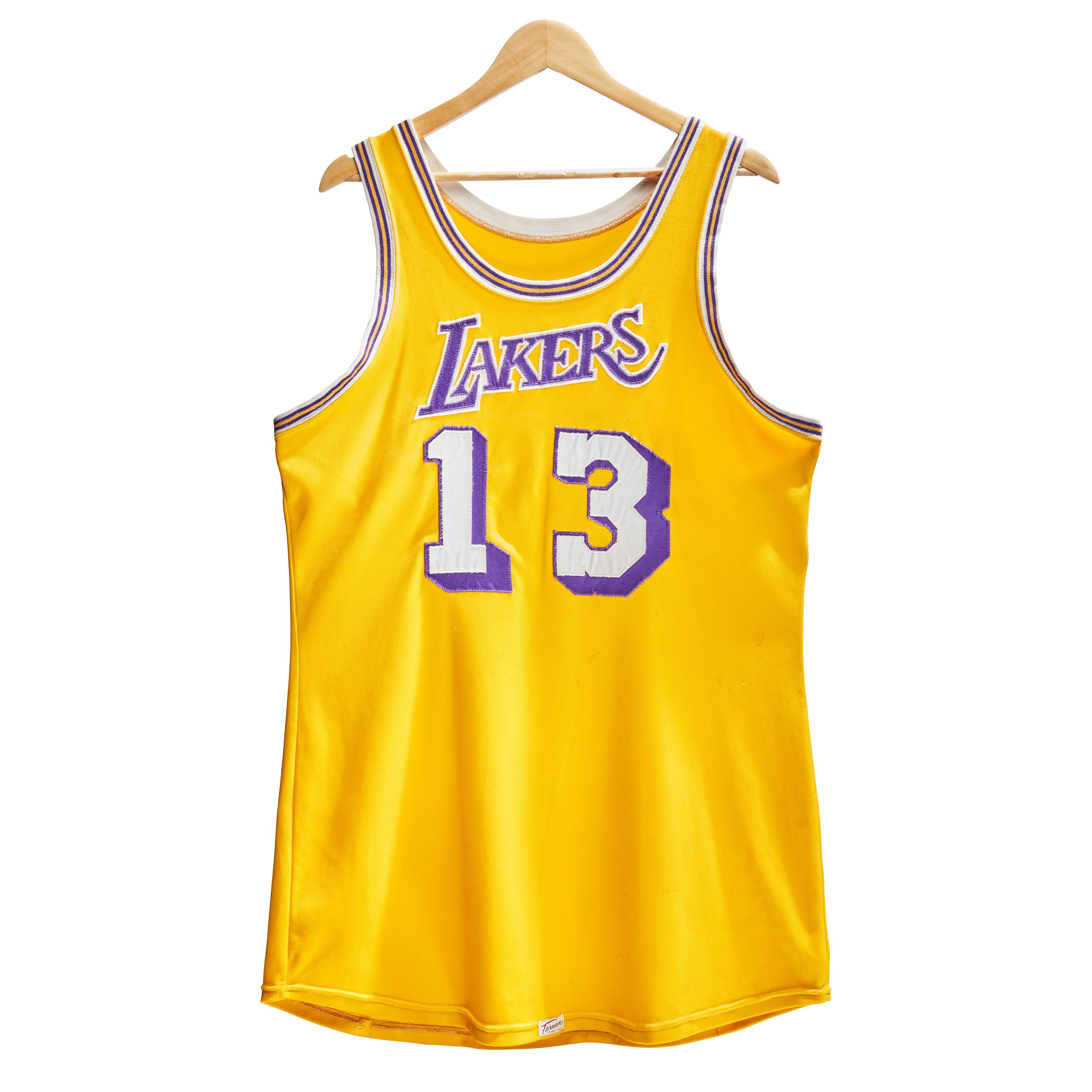 The jersey Wilt Chamberlain wore in the 1972 finals is being offered at Sotheby's.
The sports memorabilia market "has really taken off in recent years," Wachter says. "We've seen record prices across the board for all different athletes, from Michael Jordan to Kobe Bryant to LeBron James."
When Chamberlain retired from the NBA in 1973, he had won two championships–one with the Philadelphia 76ers and one with the Lakers–and he had claimed his place in the sport's record books.
A high scorer on the court, Chamberlain's superstar status accounts for the unprecedented presale estimate for the jersey, according to Sotheby's.
The current record for any item of Wilt Chamberlain sports memorabilia is a jersey worn in his rookie season (1959-60) with the Philadelphia Warriors, according to Sotheby's. It was sold by SCP Auctions for US$1.79 million in June.